July 2022
Posted July 2, 2022
July Thought of the Month

"A person without a sense of humor is like a wagon without springs. It's jolted by every pebble on the road."

~ Henry Ward Beecher
Once long ago I was running to catch a walk light and tripped. I wasn't hurt, but I'd landed like some gracious lady posing for a portrait. I burst out laughing, no doubt confusing the woman who came up to see if I was alright. A sense of humor is the ability to perceive and appreciate the amusing or comical side to a situation. It's why people in those "funniest video" situations can laugh at themselves. They can imagine how hilarious they must have looked.
A sense of humor is a vital tool of survival. It is a major trigger for laughter, which has been medically proven to act like a medicine for our minds and bodies. I know from personal experience that it can ease tension and defuse anger. Read this Mayo Clinic article on the health benefits of laughing.
A baby starts to laugh at about four months, it's a part of human nature. But as we get older, the pressures of life suppress that natural response. One study says that children laugh 300-400 times a day while adults don't even make it to 20 times. I have to wonder, is this why we had more energy in our youth than as grownups?
We all need to laugh as much as possible. Make it a practice to cultivate your sense of humor. At the end of each day, tally up how many times you laughed, then work to up that number the next day. Find ways to laugh the way you did when you were a child. Watch comedies and funny movies, read jokes every day, whatever it takes. Then you'll truly be young at heart.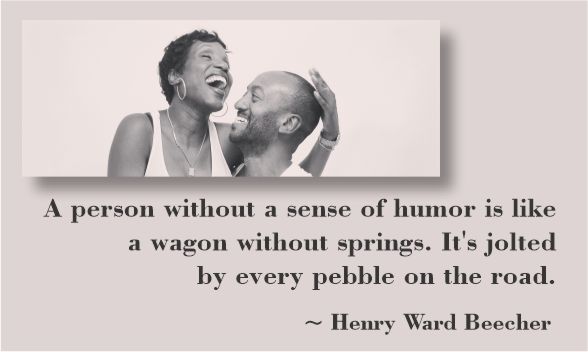 » Share: