December 2022
Posted December 3, 2022
December Thought of the Month

"However vast the darkness, we must supply our own light."

~ Stanley Kubrick
The last year has been hard in so many ways, and based on the forecasts in the news, there isn't much to look forward to in the year we're facing. But don't let all the negativity so many pass on, sometimes with an inappropriate glee, to darken your view of life and the world. When people think something is inevitable, that there's nothing they can do about it, it can paralyze us to the point we don't take any kind of action, giving those unwanted possibilities the chance to manifest.
There's a poem I read when I was in grade school about a missing horseshoe nail leading to the loss of a kingdom. Never forget that the smallest act on our parts — a smile, holding a door, helping someone get an item on a high shelf, an unexpected thank you or kind word — can change the course of someone's day for the better. And each bit of kindness and positiviy adds to the light that burns away the darkness that is always trying to surround and bury us.
Each of us has a part to play in bringing light against the darkness. So especially in this festive time of year, be deliberate in brightening the world in any way you can because it does make a difference. And like that lost horseshoe nail, your small deed could be exactly what the world needs.
Have a wonderful holiday season!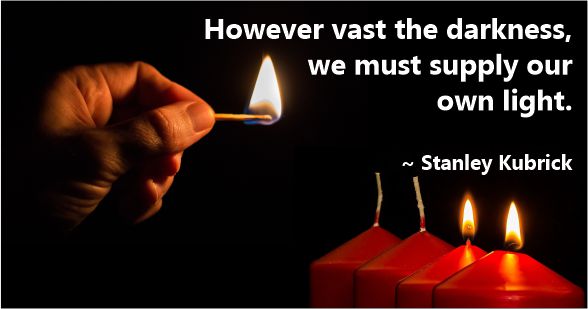 » Share: