August 2022
Posted August 4, 2022
August Thought of the Month

"You must take action now that will move you towards your goals. Develop a sense of urgency in your life."

~ H. Jackson Brown, Jr.
Everyone has "some day dreams" — things they want to do or own or achieve or finish during their life's journey. To accomplish anything on our to do lists we must be deliberate about them. Start by deciding exactly what each goal will be, what is needed to make them happen, and then take the necessary steps as soon as possible. Long term or short, every goal must have a specific deadline to give you the incentive of a countdown. Without one, a goal loses the sense of urgency needed for the goalsetter to take action, and without action it will not happen.
For example, say you want to buy the car of your dreams. Just staring in show windows at the model you've chosen will get you nowhere. Find out how much it costs, look at your income and how much you can spare every month, start a savings account, maybe take on a part-time job. Having and acting on a plan improves your odds of success and tells your mind and spirit that you expect to succeed.
We all have experienced moments when we realize that the time we thought we had has flown by. Don't put off your dreams and fall into the trap of there's plenty of time to get started or finish. With that kind of thinking, some day can too easily become too late.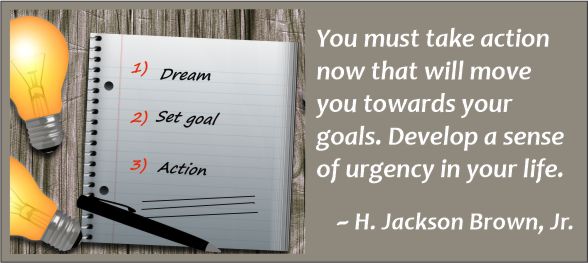 » Share: