September 2022
Posted September 10, 2022
September Thought of the Month

"Be daring, be different, be impractical, be anything that will assert integrity of purpose and imaginative vision against the play-it-safers, the creatures of the commonplace, the slaves of the ordinary."

~ Cecil Beaton
The world is like an immense chess game. The power is in the hands of a minority who play the parts of knights, rooks, bishops, queens, and kings. They make the decisions that everyone else must live under. The majority of the people play the parts of the pawns, with limited ability to move on the board of life and often the first to fall as the game proceeds. But unlike the pieces on a chessboard, we are not limited by the role we've been given. We can choose to be more.
We are not pieces of plastic or wood trapped in the shape assigned to us. We have the spirit, brains, and will to change ourselves and our paths in life. If you're stuck in a dead-end job, you have the option to use your spare time to become what you dream. Especially now with new and improving technology and access, we are no longer limited by the squares we land on in life's game.
From kings to pawns, people tend to settle for the limitations of their roles. Doing otherwise requires taking risks that most of us have been taught to fear. It's easier and feels better to stay where we are, even if taking a risk can lead to benefits far beyond what we have now. But we must take risks if we want all that life has to offer. If we take the safe route we will get nowhere slowly. We must move beyond ordinary, take chances to gain more of what we want. Like using our muscles strengthens them, the way to do achieve our dreams is to exercise our ability to take healthy risks.
Start with low-risk, low-reward actions first. For example, if you want to have a career as an author, start with a short story and post it on an online site for your genre. Do it again and again. The anxiety will gradually fade. Then write something and submit it to a contest. The prize doesn't matter, winning isn't the "why." The goal is to expose yourself to risk until fear is no longer the barrier that holds you back.
Remember that if you do what everyone else does, you will get what everyone else gets. Be the one who's different. Take actions that move you beyond the limited squares allotted a chess pawn and eventually you will command your board.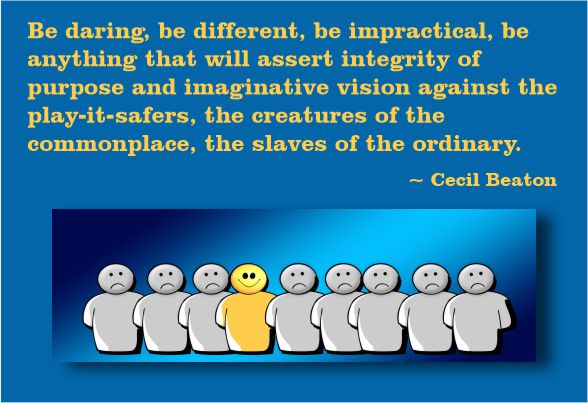 » Share: