Home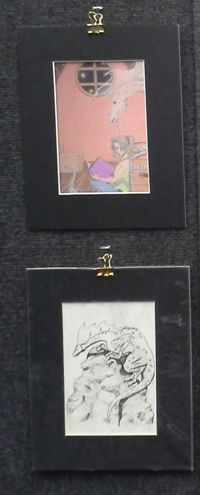 Welcome!
I'm happy you've found your way to my site, whether a web search brought you here or you picked up my flyer at a convention or you're a repeat visitor.
In the last case, you've noticed the radical changes. Explore, there are a lot of new features along with the new look.
Buy my prints, bookmarks, and back issues of Minstrel Fair in the Store. I'll be adding more art in the next weeks. If you don't see a drawing you're looking for, contact me and I'll prioritize its posting and reply to you when it's up.
Coming Soon: Order Custom Drawings Online — At live shows you can work with me to create the art you envision in your head. I work from photos, descriptions, and images found on the Internet (see The Artist). It's the thing I enjoy most about being a dealer at conventions. This feature will be the next best thing to seeing me at my table.
Like My Work? | Click Join My List and complete the form to get special store discounts, offers, exclusive prints, and more. PLUS a free download as soon as you sign up.
Thanks again for visiting!
~ Elaine C. Oldham
P.S.: Don't forget to visit and like my Facebook page (www.facebook.com/FantasyArtByElaineCOldham) — I'll be posting news and updates there too.
WHAT'S UP
---
Thought of the Month

"Forget yesterday, it has already forgotten you. Don't sweat tomorrow, you haven't even met. Instead, open your eyes and your heart to a truly precious gift - today."

~ Steve Maraboli, Life, the Truth, and Being Free